Welcome to the Portmeirion blog, where you'll find information on news, events and updates from the village.
Red Bull hosts marketing conference at Portmeirion
2019-10-01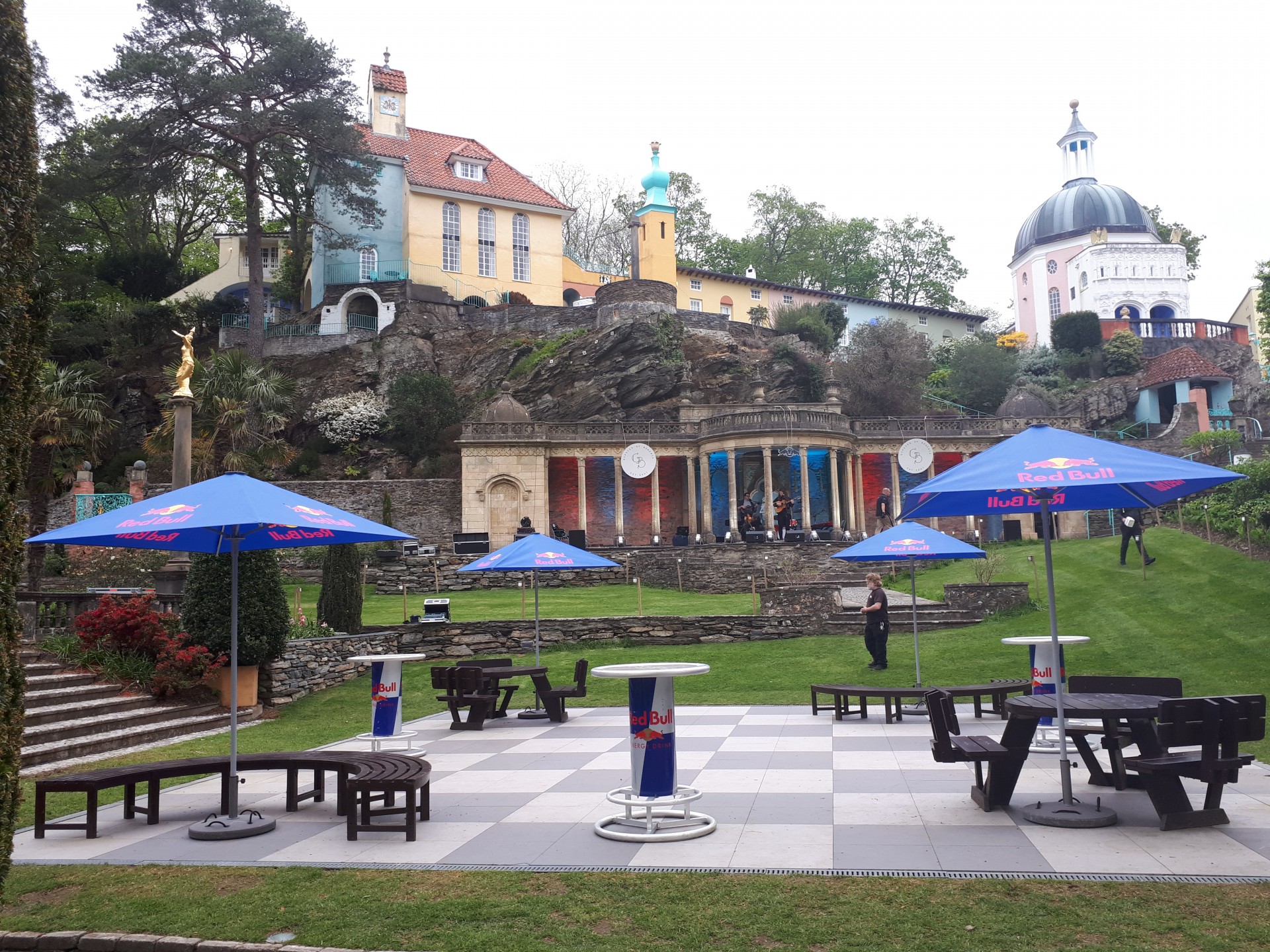 A team of 82 Marketing Executives from Red Bull UK ascended on Portmeirion in April for the annual Red Bull Marketing Conference.
Set in the colourful Italianate village on a private peninsula on the edge of Snowdonia, Portmeirion provided the perfect backdrop for the Red Bull Marketing Conference. The organisers wanted a venue that was inspiring, unique and relaxing. Portmeirion's architecture, scenery and history were the perfect inspiration for the creative marketing team.
The Red Bull team chose Portmeirion as the location for their conference as they wanted to climb Snowdon and were looking for an impressive venue nearby. Portmeirion's facilities provided good and flexible accommodation, a good selection of food, different conferences spaces and a cool party space – matching all the requirements of Red Bull. "Portmeirion is a venue that tells a story and wasn't corporate", says Natalie Duvall, Social Innovation Specialist at Red Bull. "We were looking for lots of team building, aligning and business planning and of course a good party! Portmeirion was the perfect venue to achieve all we set out to. Our staff are still talking about it!", added Natalie.
Portmeirion's Business Events team arranged for hot tubs and saunas to be brought in and housed on the quayside overlooking the private estuary. Delegates were able to relax in the hot tubs, swim in the estuary and play ball games on the private beaches. Evening entertainment was also part of the conference, with a concert held on the Central Piazza and a disco held in the Hercules Hall.
"Based on the flexibly and friendly nature of the team at Portmeirion when faced with our complex and varied requests at this event, I would definitely recommend Portmeirion as a venue for any future event briefs. In fact, we've already booked another conference at Portmeirion in September.", said Natalie.
Delegates included Red Bull UK Marketing Director Damian Marshall and Head of Pogramming and Audience Development, Tom Reding. The Red Bull team stayed at Portmeirion for 2 nights, enjoying accommodation in the Hotel Portmeirion, Castell Deudraeth and in some of the uniquely styled Village Rooms & Suites.
Portmeirion is an Italianate Village situated on a private peninsula overlooking stunning coastal scenery. One of Wales' most popular destinations, Portmeirion village features iconic architecture, scenic gardens and vast woodlands, two hotels, historic cottages, spa & award-winning restaurants. Portmeirion is home to five function rooms accommodation from 14 to 120 delegates. Portmeirion business events benefit from an on-site conference coordinator making sure evey element of your event runs smoothly.